Exhibitions on Vortic,
Vortic partnerships
On View Now: Frieze LA Viewing Rooms in partnership with Vortic
Vortic has once again partnered with Frieze to create an immersive virtual viewing experience, this time transporting you to Los Angeles.
Frieze Los Angeles 2023 is back and bigger than ever. Running from February 16-19, 2023, the fair will take place across multiple sites at the new location of Santa Monica Airport.
For those unable to attend the physical event, Frieze's collaboration with Vortic has resulted in cutting-edge technology virtual viewing spaces on view now in advance of the fair's physical opening.
Frieze Viewing Room offers a first glimpse at participating galleries and programming, bringing the fair to online audiences across the globe to freely navigate each virtual space in 3D on mobile and web devices.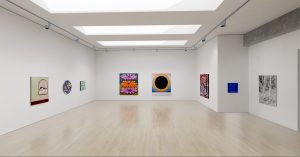 Now open to all until March 3, visitors to the Frieze Viewing Room will be able to:
Preview gallery presentations ahead of the official opening
Revisit presentations after they visit the fairs
Search artworks by artist, price, date, and more
Chat with galleries
Explore the immersive VR and 3D rooms
A selection of 5 participating galleries have employed Vortic's technology to present unique immersive experiences. These include Dastan Gallery, Mazzoleni Art, OCHI Projects, Welancora Gallery & Victoria Miro Gallery.
Frieze Enhanced Viewing Room is available to view on Vortic from 9 February – 3 March. 
Header Image: Frieze Viewing Room installation view, Courtesy of the Artist and Welancora Gallery.
Paragraph Image: Frieze Viewing Room installation view, Courtesy of the Artist and Ochi Projects.
VISIT VORTIC X FRIEZE VIEWING ROOMS