Exhibitions on Vortic,
Vortic partnerships
In Conversation with Roberta Travers on working to virtually represent Ruth Borchard's Original Collection and The Self-Portrait Prize.
Vortic has an ongoing partnership with the Ruth Borchard Collection and has so far created two virtual exhibitions – Ruth Borchard's Original Collection and The 2023 Self-Portrait Prize. These digital showcases transcend geographical boundaries, allowing historical portraits to be enjoyed worldwide while providing a platform to emerging artists.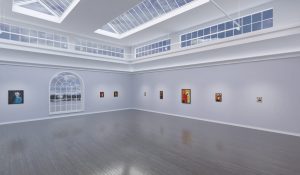 Ruth Borchard's Original Collection is made of 100 self-portraits she collected between 1958 and 1971. This assortment features works by British and Irish artists. It includes portraits from well known artists such as Michael Ayrton, Anne Redpath and Keith Vaughan, alongside emerging avant-garde painters of note like William Crozier and Francis Newton Souza; and promising young artists early on in their career like Anthony Green, David Tindle and Anthony Whishaw. The collection showcases diverse artistic influences, including Camden Town, Expressionism, the Euston Road School, Art School Academicism, Kitchen Sink School, Art Brut, Scottish Colourism and Continental Existentialism.
Although only five of the hundred self-portraits are by women, their presence is strongly felt. Ruth did approach other female artists for self-portraits but none felt able to help. The collection was transferred to a charitable trust in 2011 to commemorate the centenary of Ruth Borchard's birth, creating the Original Collection and also the Self Portrait Prize.
The Self-Portrait Prize is an online display that presents a selection of artworks entered into the competition. Representing artists from various backgrounds and career stages, the exhibition upholds the tradition of artists as subjects of their own creations. The 2023 virtual exhibition spans eight rooms, showcasing paintings, drawings, collages, sculptures, photographs, videos and mixed media artworks. Overall, it reveals the diversity and ingenuity apparent amongst contemporary practices.
We had the privilege of conversing with Roberta Travers, a gallery associate and curator of the Ruth Borchard Collection at Piano Nobile Gallery, about working with Vortic for these exhibitions. Travers praised Vortic's exceptional exhibition quality, the ease of using Vortic and the expanded audience reach it affords artists. 
"Vortic provides an opportunity for collectors and art lovers around the world to view works wherever they are. And also allows for artists to have their work seen by a much wider audience."
– Roberta Travers, Piano Nobile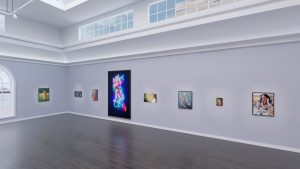 In our discussion, she also highlighted the accessibility feature and the virtual extension's attention to detail, "it allows for users internationally to view the works as close to in person as possible".
Vortic's software facilitates truly personalised exhibitions tailored to galleries' and artists' preferences. This unique capability allows for a diverse array of artworks to coexist within the same exhibition. Travers noted, "Vortic presents an opportunity for a large number of artworks to be displayed together."
When asked if she plans to continue to use Vortic she said, "Yes, we will use it again!" 
Explore The 2023 Self Portrait Prize