Exhibitions on Vortic
Exploring the intersection of Photography and Painting: insights into Painting with Light.
Painting with Light is the latest Vortic Curated exhibition, exploring the intertwined characteristics between photography and painting through the works of 11 contemporary artists. The show was curated by photographer Isabelle Young, and took a hybrid approach – with the physical exhibition being extended in the virtual space to create a more immersive way of viewing and experiencing it. The physical exhibition took place from 14th September to 1st October at 79, Wardour Street while the virtual exhibition is currently on view on Vortic until 4th December. 
Vortic had the privilege of speaking with Isabelle Young and featured artists Chantal Joffe and Melanie Issaka – to gain their perspectives on this exhibition and its multidisciplinary approach as well as their thoughts on exhibiting in the digital realm.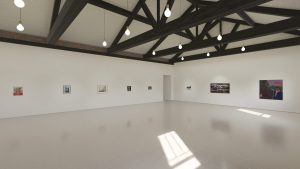 Curator Isabelle Young on the relationship between photography and painting:
[Painting with Light] "was born out of a desire to see more dialogue between the mediums of painting and photography and to redress some historical imbalances between the presentation of them both," Young reflected.
She explains that, rather than comparing the specifics of each medium, Painting with Light aimed to explore their shared approaches to image-making. According to Young, the invention of photography allowed painters to see the everyday in completely new ways.
Young also discusses the possibilities of the virtual in realising exhibitions that would otherwise not be possible: the ease of planning and visualising exhibitions, the re-creation and modifying of physical spaces in digital exhibitions. She notes that the digital space "becomes the only place where they can exist."
Isabelle Young and Chantal Joffe: A Cross-Disciplinary Dialogue
In this exclusive conversation, featured artist Chantal Joffe and curator Isabelle Young delve into the inspiration and processes behind their practice. They also explore painting and photography influence each other.
"Photography has changed our whole understanding of the world… everything is immediate and instant."
Melanie Issaka: the power of virtual exhibitions in expanding reach 
A visual artist and photographer, Melanie Issaka's works in Painting with Light explore light and its absence. She creates meticulously constructed scenes that capture a sense of disquiet or psychological tension. In this conversation, she discusses the processes and meaning behind her works – the ability to explore her identity; and both the importance of – and absence of – light. 
Issaka also highlights how virtual exhibitions allow for work to reach huge new audiences worldwide that would otherwise be impossible. She also highlights the possibility of reaching a new audience across the globe through digital exhibitions.
"I learned throughout the last couple of years of the possibilities .. the people that I've been able to communicate with, worldwide, have been there because of online exhibitions"
Through both its physical and digital presence, Painting With Light has created an illuminating perspective on the interconnected histories and practices of photography and painting. These insider views from the curator and the artists provide a window into the creative passion that fuelled this dual exhibition.
Painting with Light was on view at 79 Wardour Street from 14th September to 1st October and is still on view on Vortic until 4th December 2023.
EXPLORE THE EXHIBITION