Exhibitions on Vortic
Doug Aitken | Open
In February 2022 Vortic was thrilled to host Open by Doug Aitken, a joint presentation by 303 Gallery (New York), Galerie Eva Presenhuber (Zürich), Regen Projects (Los Angeles), and Victoria Miro (London). This innovative exhibition was available to view in virtual reality via headsets at all four galleries' physical spaces. Visitors to any of the galleries in the four different cities experience the exhibition alongside visitors from other geographies, within the virtual space.
In Open, Aitken has created what he sees as a new context for his artworks, both realised and speculative. Across four separate viewing rooms, viewers encountered Aitken's artworks installed in imaginary architectural environments that are themselves set within a hyperreal world that is at once familiar and fantastical. 'Like a sequence of notes, the virtual space allows you to move through one encounter after another,' says Aitken. With its shifting lighting and spatial audio, Open creates 'a soundscape, an atmosphere, an environment that you fall back into.'
The first space viewers enter is a circular courtyard circumscribed by high, raw concrete walls, open to the sky above. At its centre, Metallic Sleep, 2022, a column of intersecting polished steel discs, rotates slowly on a granite boulder, reflecting the space around it. 
'In this tall kinetic sculpture, you see an earthwork created out of the reflections of the landscape around it. It picks up all of its surroundings and turns them into a choreography, a continuously changing abstraction.'
– Doug Aitken
Through a small circular window in the wall, viewers can peer out into a vast, ethereal skyscape, through which floats a silver hot air balloon – a reference to Aitken's project New Horizon, 2019, in which a custom-made, semi-reflective balloon and gondola flew over rural Massachusetts. Throughout Open, natural lighting conditions shift subtly, moving from a deep blue afternoon sky to a 'golden hour' sunset – a transitional time of day often referenced in Aitken's work.
In the second space, the three sound sculptures from Aitken's series Slow Wave, 2022, build on his recent project Sonic Mountain (Sonoma), 2019, a site-specific piece on the Donum Estate in Northern California. While Sonic Mountain (Sonoma) is 'performed by the landscape,' as Aitken puts it, these new sculptures turn, allowing their active musicality to interact with the air currents of their surroundings. The polished surfaces of Metallic Sleep and Slow Wave are entirely responsive to their environment, which they pristinely replicate through VR algorithms. The only thing not reflected in these virtual sculptures is the viewer's own body.
'Here are three sonic mobiles, separate but all functioning together to create one composition. A soundscape, an atmosphere, an environment that you fall back into.'
– Doug Aitken
The third space in Open is hung with a selection of Aitken's lightboxes and word sculptures, which he has described as 'electric haikus.' Throughout Open, the only light source is the sky, which in this gallery is visible through apertures in the ceiling. As dusk falls outside, the lightboxes glow richly, their colours reflected on the space's polished concrete floor.
'In this room, we see the language of signs. Light boxes, images, phrases, slowed down and electrified, reclaiming the world around us for ourselves.'
–Doug Aitken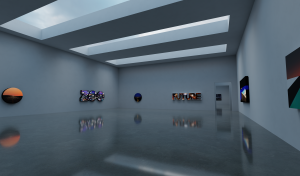 A video offers a glimpse into Aitken's studio and production methods before viewers enter the final gallery space, which is hung with wall-based fabric works. These works were begun during the turbulence of the first months of Covid lockdown. Parts of these tactile, handmade pieces were cut from the artist's own clothes. In Open, Aitken presents two new pieces depicting the phases of the moon, and a large-scale piece, Slowing down Perseverance (Dare mighty things), 2022, based on the coded pattern of the parachute that landed the spacecraft Perseverance onto the surface of Mars. As with so much of Open, Aitken has observed that this work 'speaks about the idea of moving forward into the future,' in a manner that retains a connection to our senses of touch and physicality, and remaining rooted in time and place.
'These works were inspired by the moment we're living in, reconnecting with the tactile, the physical. I found myself reaching out and using materials that surrounded me.'
– Doug Aitken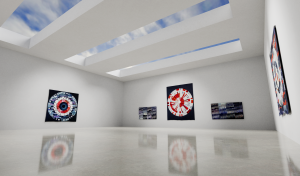 Open was available to be viewed on appointment at 303 Gallery (New York), Galerie Eva Presenhuber (Zürich), Regen Projects (Los Angeles), and Victoria Miro (London) through March 2022, and is still available to view on Vortic's website and mobile app.
Doug Aitken | Open in the press
The Art Newspaper – 'Doug Aitken ventures into Virtual Reality'
Surface – 'Doug Aitken's new VR exhibition is a promising leap forward'
Art News – 'Doug Aitken Launches Ambitious VR Exhibition Spread Across Four Galleries'
Images: Doug Aitken, installation views of Open on Vortic VR. © Doug Aitken. Courtesy the artist; 303 Gallery, New York; Galerie Eva Presenhuber, Zurich; Victoria Miro, London; and Regen Projects, Los Angeles
Videos: Doug Aitken, Metallic Sleep, 2022, mirrored stainless steel and granite stone, 39.5 x 18.9 x 22.6 cm. Installation view on Vortic VR. © Doug Aitken. Courtesy the artist; 303 Gallery, New York; Galerie Eva Presenhuber, Zurich; Victoria Miro, London; and Regen Projects, Los Angeles; Doug Aitken, Slow Wave (5 note constellation, short chime), 2022, chrome-plated aluminium, steel frame, resin, granite stone, 279.0 x 234.0 x 242.0 cm; Doug Aitken, Slow Wave (5 note constellation, medium chime), 2022, Chrome-plated aluminium, steel frame, resin, stone, 257.0 x 265.0 x 216.0 cm; Doug Aitken, Slow Wave (5 note constellation, tall chime), 2022, chrome-plated aluminium, steel frame, resin, granite stone, 337.0 x 295.0 x 299.0 cm. Vortic installation view, 2022. Courtesy the artist; 303 Gallery, New York; Galerie Eva Presenhuber, Zurich; Victoria Miro, London; and Regen Projects, Los Angeles © the artist
Visit the exhibition on vortic.art